Caerhays Gardens opening for Spring
Path network extended and access improved for all at Caerhays gardens and an array of yellow magnolias for the spring

Developments in the gardens at Caerhays Castle in Cornwall could mean that last year's (2011) record of 15,000 visitors will be surpassed in 2012.
Caerhays is well known as a spring garden and its visitors are welcomed in a busy period between February and May.

Most visitors are from Cornwall but a large proportion come from further afield – within this country and other regions of Europe.

Major improvements to the footpath network in the gardens will mean better access for all visitors – and will give access to people in wheelchairs to previously difficult parts of the garden.

Around 800 metres of new path have been created and the entire network has been hardcored.

It is a project that Caerhays owner Charles Williams has been pleased to see come to fruition.

"The original idea was to create a car park at the top of the garden so people who were unable to negotiate the paths could at least sit and enjoy the view. There are some steep climbs and the existing paths had never been surfaced in a completely satisfactory way.

"In fact, the finished job means that anyone using a wheelchair can get round nearly all the garden, even in wet weather," he said.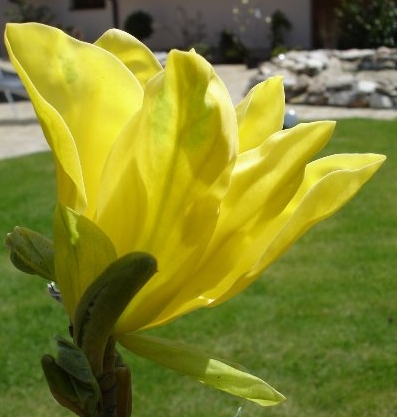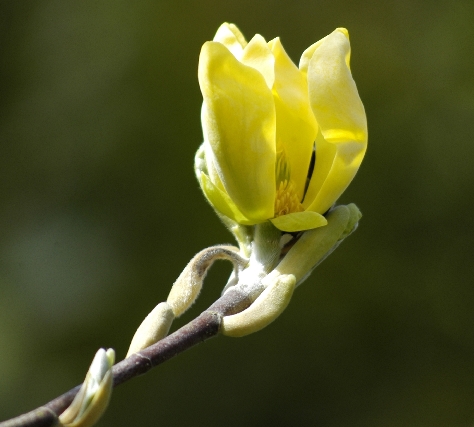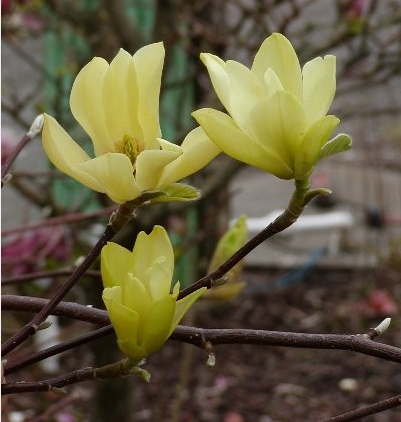 In concert with the paths project, a new area of garden has been created over recent years and this, too, will be open for the first time in spring.
Work started four to five years ago to bring ten acres of farmland into the garden. Shelterbelts have been established.

Planting new species started two years ago so there will be plenty for visitors to discover and enjoy.

"Because we have here at Caerhays one of the national collections of magnolias, we have to continue to collect new hybrids from the USA, New Zealand and Belgium, where a lot of development work is centred.

"And that takes quite a bit of space. In maturity, you will only get five specimen plants in an acre. You need space to stand back and appreciate them," said Charles.

Over recent years he reckons that around 50 new varieties have been planted at Caerhays and many of these will be on view for the first time in the extended garden.

He is particularly excited about the yellow varieties that are coming to the fore.

While yellow magnolias do exist in the wild, the flowers are pale and relatively small. Their appeal for spring gardens is also reduced because they bloom while the tree is in leaf.

Characteristically, Asiatic magnolias – the mainstay of gardens like Caerhays - produce flowers before leaves and breeders have been trying to re-create that feature in the yellow varieties.

And now they have done it and the latest creation will be on view at Caerhays from next spring.

Two varieties – 'Yellow Bird' and 'Yellow Fever' – are well established at Caerhays and have reached a height of about 20 ft.

"Now a Belgian breeder has produced the next generation, which is much more suitable for the smaller garden. They have mustard yellow flowers and we have 30-40 hybrids here. I expect them to be very popular with visitors," said Charles.

A section of the Caerhays estate which is not currently open to the public is Old Park Wood, planted as a garden around 100 years ago, before the first war. Now it is set to become the next major development.

"It was planted at the same time as the castle gardens were created and has not been terribly well maintained in the recent past," said Charles.
"But it contains some outstanding rhododendrons and other species that no-one has ever seen."
Work has now begun on clear-felling areas to open them up and remove unwanted growth, to make paths useable again and "to clear out years of neglect."

Laurels have been cut back and removed; tree surgery carried out to open up the canopy where it has become too dense. The project covers around 20 acres "which contains a lot of wonderful specimen trees."

Old Park Wood will be reopened to the public in 2013.

The work on the paths and on Old Park Wood will cost around £65,000, which has attracted a 50% grant from the South West Regional Development Agency (RDA).

"It is an expensive business and the grant has been both welcome and essential in terms of getting these projects under way," said Charles.

One outcome he would like to see as a result of the new developments is an increase in the proportion of local people who visit the gardens.

"My passion is gardening and has been all my life. But you don't have to be a keen gardener to appreciate what we have here. Many people just come to enjoy the woodland walks and there will now be much more of them to discover.


"And of course, local residents get a discount!"

People who like what they see in the garden can buy the same plants at Burncoose Nurseries, a partner enterprise with Caerhays.

Some 1,200 specimen grafted magnolias, up to six feet high, are sold each year as a direct result of visits to Caerhays gardens.

The castle and gardens open again on the 13th of February until the 5th June 2012. Groups, clubs and societies can book a visit outside normal opening times.